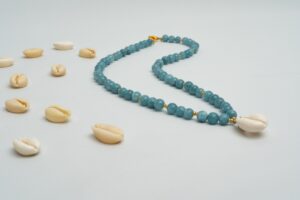 Handmade jewelry has been a sought after closet staple for decades. Whether it's the only kind of jewelry you buy or something you picked up on vacation, you have at least one piece of handmade jewelry.
WHAT IS ABOUT SOMETHING THAT'S MADE BY HAND THAT DRAWS OUR ATTENTION
My theory is that an artisans personal connection and love of their craft transforms ordinary objects into jewelry masterpieces. still most people don't understand the true value of handmade jewelry compared to its mass produced counterparts.
1.YOU ARE SUPPORTING REAL PEOPLE :
It's hard to know exactly where your money is going when you buy from a big corporation. Investing in handcraft jewelry means you get connection with the artist. Whether you know them in person, or feel like you know them after learning there unique story. You can remember that your purchase supports the real person. There's something very rewarding about knowing that your money will go towards something good .
2. A STORY BEHIND EACH PIECE:
When you wear handmade jewelry. You are part of the story that maker or artisan is telling through their work. Each artist has a unique reason for designing jewelry.
Their designs are sending a message. May be only they know the true meaning behind it. But you feel that  connection between you and the person who created it .
3. No MACHINERY INVOLVED:
Handmade jewelry is literally just that, made by the hands of the artisan or maker. The pieces are molded, sowed, curved, and shaped without the use of machinery .
A machine can crank out hundreds of units per hour while an individual can only make a finite Quantity.
WHY DOES IT MATTER?
Attention to detail.
My friends our handmade jewelry will be far less likely to have flaws and imperfections than something made in bulk.
4. THE VALUE OF TIME:
As previously mentioned, since there are no machines involved it takes an incredible amount of time to produce just a single piece of handmade jewelry. As a designer myself, I spend hours designing a single piece of jewelry for a client. Once the design complete, it can take up to several weeks to make. That's a lot of devotion, care, and attention to your piece of jewelry.