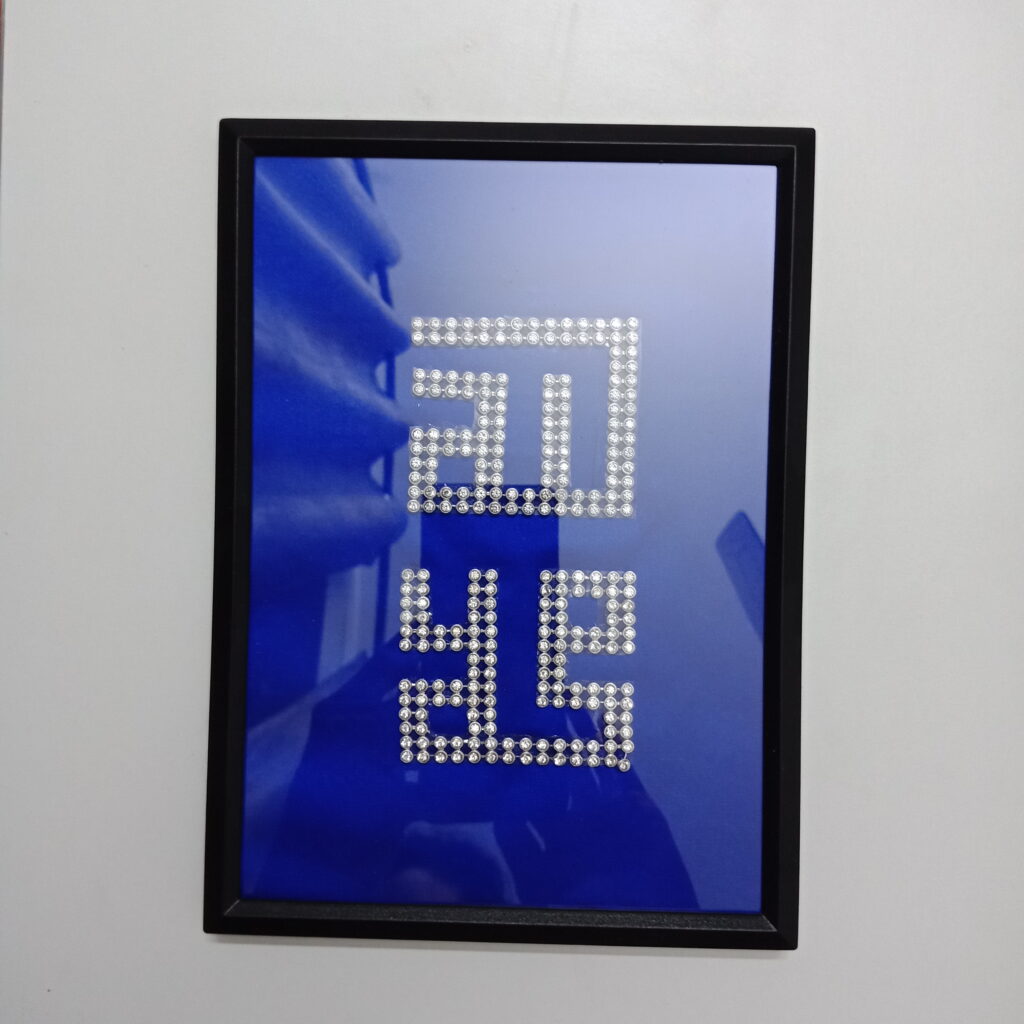 Welcome to "i9 Fashion", where artistry meets spirituality. We are thrilled to introduce our exclusive Wall Frame, meticulously crafted to honor the sacred names "ALLAH" and "MUHAMMED" in a truly unique and breathtaking style. What sets this masterpiece apart is not just its stunning design, but also the noble cause it represents.
Discover the Beauty Within:
🌟 American Diamond Stone Radiance: Our Wall Frame exudes a heavenly aura, adorned with American Diamond Stones that gleam with an ethereal radiance.
🌼 High-Quality Fabric: The backdrop of this divine masterpiece is a canvas of high-quality fabric that embodies elegance and opulence. Its luxurious texture provides the perfect stage for the names "ALLAH" and "MUHAMMED" to shine.
🖼️ Artfully Framed: The Wall Frame itself is a testament to artistry and craftsmanship. It's not just a frame; it's a work of art that adds a touch of grace to any space. Easy to hang, it brings the divine right into your home.
A Purchase with a Purpose:
At i9 Fashion, we believe that true beauty lies in giving back. That's why every Wall Frame purchase directly contributes to charity. Proceeds from your purchase go to noble causes, making this not just a piece of decor but a symbol of compassion and kindness.
Why Choose Our Wall Frame:
🌈 Unique Design: Our Wall Frame stands as a testament to your unique faith. Its design captures the essence of spirituality and aesthetics, making it a truly exceptional addition to your space.
🌟 Crafted with Love: We take immense pride in our craftsmanship. Each Wall Frame is made with utmost care and dedication to ensure it meets the highest standards of quality.
🌎 Universal Appeal: This masterpiece transcends boundaries. It is a symbol of unity, devotion, and love, making it a cherished gift for all.
📦 Easy to Hang: Our Wall Frame is designed for hassle-free installation. Hang it in your living room, bedroom, or sacred space to infuse your surroundings with divine energy.
A Symbol of Faith and Compassion:
Our Wall Frame featuring the names "ALLAH" and "MUHAMMED" is more than just a decor piece; it's an embodiment of your faith and a beacon of hope. It serves as a constant reminder of the divine presence in your life and your commitment to making the world a better place.
By choosing our Wall Frame, you not only enhance your living space but also contribute to meaningful charitable endeavors.
Embrace Beauty, Faith, and Charity:
Transform your surroundings with the divine elegance of our Wall Frame. Order yours today and become a part of something greater—a cause that spreads love and compassion to those in need.
Shop Now : https://i9fashion.in/product/wall-framepink-designed-in-name-allah-muhammed-made-of-american-diamond-stone-that-are-placed-on-high-quality-fabric/
At i9 Fashion, we're committed to offering you meaningful products that make a difference. Explore our collection of unique items that reflect your values and beliefs.
Contact us on i9fashions.official@gmail.com
www.i9fashion.in