🔍
Learn Fashion Illustration Types and Techniques.
₹99.00
Register yourself for the course by clicking on "buy now" button, then go to your cart and place your order.
Make A payment of Rs 99 and confirm your seat
You will be Notified on your email ones your Admission is Conformed.
link to join the class will be sent to you before the class starts.
Click here for course Details: https://i9fashion.in/fashion-illustration-types-and-techniques/
Description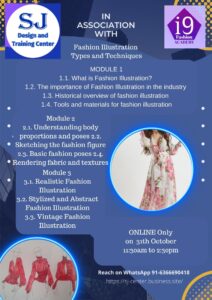 Course Title:
Fashion Illustration Types and Techniques
Course Duration: 3 hours
Course Description: This 3-hour course on Fashion Illustration Types and Techniques is designed to introduce students to the diverse world of fashion illustration. From sketching to digital rendering, this course covers a wide range of techniques and styles used in fashion illustration. Whether you're an aspiring fashion designer or just interested in fashion, this course will help you develop your illustration skills and explore various styles and methods used in the industry.
Course Outline:
Module 1: Introduction to Fashion Illustration (30 minutes)
1.1. What is Fashion Illustration? 1.2. The importance of Fashion Illustration in the industry 1.3. Historical overview of fashion illustration 1.4. Tools and materials for fashion illustration
Module 2: Basic Sketching Techniques (30 minutes)
2.1. Understanding body proportions and poses 2.2. Sketching the fashion figure 2.3. Basic fashion poses 2.4. Rendering fabric and textures
Module 3: Fashion Illustration Styles (45 minutes)
3.1. Realistic Fashion Illustration
Detailed anatomy and proportions
Shading and highlights
Working with different art mediums (pencils, markers, watercolors)
3.2. Stylized and Abstract Fashion Illustration
Exploring unique and abstract styles
Using bold lines and geometric shapes
Minimalistic and avant-garde approaches
3.3. Vintage Fashion Illustration
Exploring historical styles
Understanding the evolution of fashion illustration
By the end of this 3-hour course, students will have gained a comprehensive understanding of fashion illustration, Additionally, they will have valuable insights into potential career paths in the fashion industry related to illustration.